CLEAN
The Perfect Hand Sanitizer
At work, at home, or on the go, Private Stock Labs 3 in 1 sanitizing, moisturizing, fragrance brings unparalleled convenience to your everyday life.
Proven. Trusted. Portable.
With the convenience of having all three products in one bottle, our latest innovation eliminates the need to carry a separate hand sanitizer, moisturizer, and fragrance.
Our sleek-shaped bottle is ergonomically comfortable to hold, and features a sueded hand-feel and vibrant colors to highlight each unique aromatic fragrance.
Scientifically engineered and designed in New York City, following 18 months of research, development, and testing; our 100% plant-based ethanol solution is FDA approved and proven to eliminate 99.99% of germs.
The perfect combination of science and fashion, offering you a premium experience that is both practical and chic.

Innovative Design
Form and function converge at a device that achieves the best ergonomics and hand feel while maintaining the highest volume of liquid. From the organic rounded bezels to the rubberized coating, the design maximizes grip and comfort.

The product is sleek and convenient, resulting in a device that provides a trifecta in daily care: keeping your hands clean, smooth, and smelling great.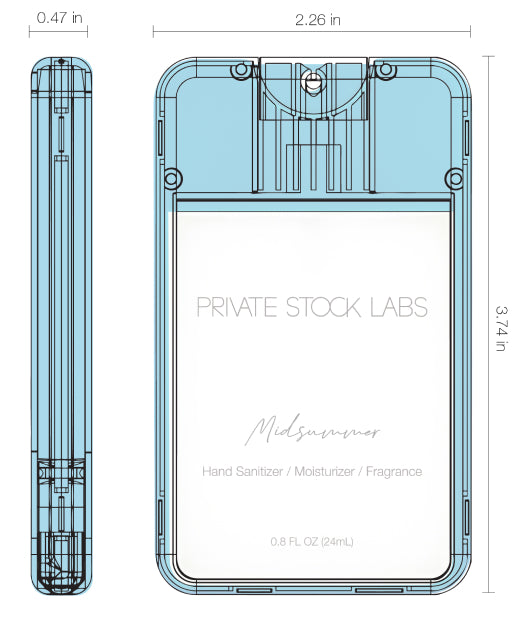 High Density Liquid
The powerful serum inside is a high density liquid, meaning that it is jam packed full of the formula. With over 350 sprays per 24mL, the device maximizes value and convenience.
.
Micro Mist
Private Stock Labs utilizes a specialized micro mist applicator to ensure even coverage and improve the life span of the product.

The mist aerates the high density liquid to absorb quickly into the skin, preventing the area from feeling sticky or slimy. The aeration also helps to unlock the full spectrum of the fragrance.